This Friday, September 14th at Cinema Village, is the Midnight screening of
The Junior Defenders!
Yes, me in all my B-Movie DP glory.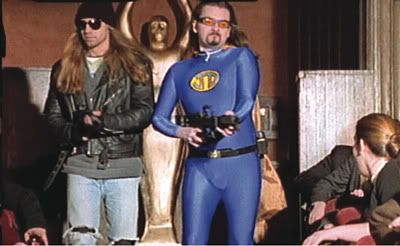 Well, I was a doubter at first, but Writer/Director and editing whiz Keith Spiegel finally has a cut of Junior Defenders that has been released. Warner Home Video has picked up the movie formerly known as Groupies.
The Junior Defenders cast take a moment, on set for a group photo. From left to right:
Justin Henry, Fred Hazelton, Brian O'Halloran, Ally Sheedy, Jason David Frank.
Come to
Cinema Village
, 22 East 12th Street, between 5th Ave and University Place, a little before midnight, on Friday and watch the film that I shot, on film, lovely film, ten years ago.
Directions to Cinema VIllage.
Keith spent a lot of time and money working on this, over the years, cutting and re-cutting the film, getting celebrity interviews and finally getting John Waters to narrate. Burlington College helped out by letting Keith use, the then, not so antiquated VHS editing system and then Steve Beattie helped out and for literally years, helped Keith with the edit. Sometimes they could only work once every three weeks. Kudos to them for their persistence and tenacity.