Daniel Craig said that
he's willing to pose nude
in his first Bond flick (yechh). Dude! You're ugly and no one wants to see YOU nude.

We want to see the Bond GIRLS!


Lana Wood as Plenty O'Toole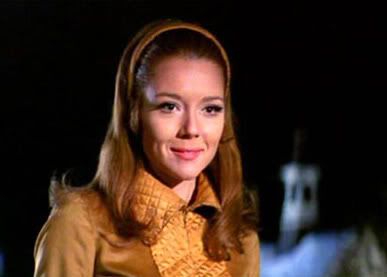 Diana Rigg as Tracy Di Vicenzo


Some Bond Girl links:


JB multi media
Rejected Bond Girls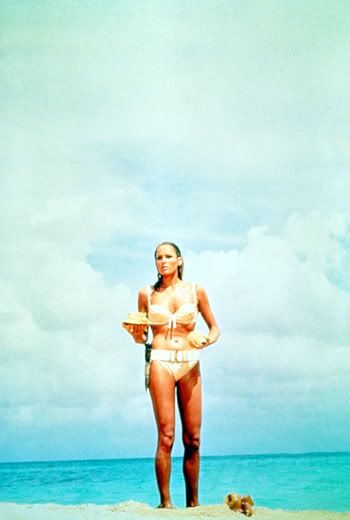 Ursula, Oh Ursula. Trying to find THAT iconic shot of Andress coming out of the water, the one that Halle paid homage to in Die Another Day, but not finding it. you'll have to watch her her clips from Dr. No.
Halle as Jinx
I love that Dame Judy was "M" and John Cleese was "Q". That was actually a rather fun Bond flick, now that I think of it. Pierce Brosnan was such a great Bond, he was very handsome and could be quite filippant and foppish as well as being a killer, though Connery is still the best. He was more of a stone cold killer and his pork pie hat never came off when he was fighting.
Of course we can't forget the Bond cars. My fave is still the DB5, though the Vanquish is growing on me. Some people near me used to have a silver DB6 in their driveway and it would drive me crazy because it was just sitting there. I went up and rang the bell once and the woman there told me that the car was not for sale. It had been in an accident where the undercarriage had been ripped out. Her husband was going to have it fixed. It sat there for years. I don't know what happened to it. I think it died a sad, rusty death, under a tarp. For a long time I thought that Bond drove a DB6 in Goldfinger. I like the 6 more than the 5.
Yeah, the Vanquish totally kicks ass. Especially the rocket launchers. It goes without saying that Bond drives a
fine British motorcar.
The Official James Bond site
. All photos are from there and are copywrite 1962-2005 United Artists and Danjaq.LLC. Thanks!
So far, the only good thing about Casino Royale is Eva Green. Ouch! Teh Hott
!