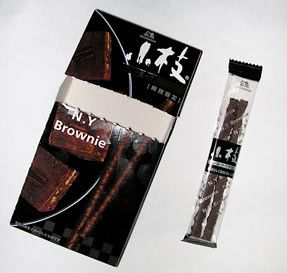 I was out shopping today and stopped in to see what was new at Samurai,
Flushing. I picked up a few Japanese food items to make a goodie box
for my sister Karen's B-Day.

While perusing the shelves I got

more Pretz Corn. Man! Those are really good and really do taste like

corn. There's a funny pic of a little boy, who looks like he's from the Little

Orphan Annie comic strip and he's holding an ear of corn. I'll take a pic sometime

and post it.





I also found something new: Koeda Chocolate New

York Brownie. OMFG!! These are soooooo gooood. I just opened the box

and tried one and now they're almost all gone. These are sort of like

Pocky in that they are thin, roundish, pretzel-like and highly yummy.

They're made by Morinaga, not Glica. They have little bits of pecan to

add a nice nutty, crunchy flavor food experience. I'm going back

tomorrow and getting more!!!