Actor James Doohan is dead. Long Live Scotty!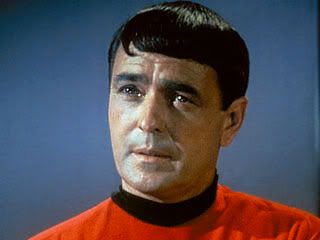 LOS ANGELES - James Doohan, the burly chief engineer of the Starship Enterprise in the original "Star Trek" TV series and movies who responded to the command "Beam me up, Scotty," died Wednesday. He was 85.
Doohan died at 5:30 a.m. at his Redmond, Wash., home with his wife of 28 years, Wende, at his side, Los Angeles agent and longtime friend Steve Stevens said. The cause of death was pneumonia and Alzheimer's disease, he said.

Article

New York Times Article

Heres a short vid of some of James Doohan's/Scotty's best lines: The Wit and Wisdom of Montgomery Scott.

Click on the link at the left.
Goodbye, Jimmy.