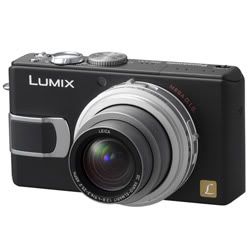 Not being able to get good batteries for my aging Nikon Coolpix 3500,
I bought a new camera,
yesterday
. Having seen video clips and stills shot by Chris Webb from his trip to France, I got the same camera Chris has: the Panasonic DMC-LX1.

It's a really sweet little camera, nice features, big LCD screen, Leitz glass and a metal body that has some weight to it. I still have to get a few other things for it, an SD card that can write faster and possibly an image tank to store photos. A bit more expensive than another card, but I think it's functionality will be worth it.

I went to dpreview.com to check out other cameras, but the
DMC-LX1 seemed to have most of the features that I wanted. It's also one of the few cameras that has an optional 16x9 aspect ratio. As Chris pointed out, it can make a nice director's viewfinder and storyboard tool. It has a 28mm equivalent wide end and 112mm equivalent tele end. There are lots of image controls,including being able to shoot raw and tiff images. Two of the best features that make me very happy are manual exposure and manual focus controls.

I wanted to get a Kodak Camera, having gone to school at RIT, but there wasn't a camera they made that fit the bill.