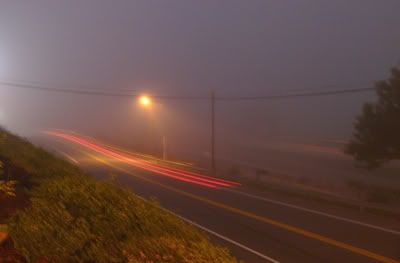 Nightscape, Virginia, August, 2007.
I've always been interested in taking pictures at night. I'm not really sure why. Ever since I was in high school, when I began to do my own darkroom work. I enjoyed taking long exposures and then seeing what my experiments had brought. It's still fun, because I have a better idea of what things will look like, but you still don't always know exactly what you'll get and that's part of the fun.
Nightscape, Virginia, August, 2007.
I like the camera's ability to see into the darkness and the way the different colored streetlights create interesting pools of light and reflections. I also like the feeling of isolation and decay that accompanies these photos, because I'm in an urban area, or on some old bridge, or factory. Rochester was great. I did a lot of night photography and I even did some 8x10 night shots.
Here is my walk across the Queensboro Bridge last year:
http://mark-sasahara.blogspot.com/2006/02/night-ii.html
http://mark-sasahara.blogspot.com/2006/02/night.html
Other night shots:
http://mark-sasahara.blogspot.com/2006/07/francis-b-day-in-providence.html
http://mark-sasahara.blogspot.com/2006/10/random-pix.html
http://mark-sasahara.blogspot.com/2006/05/after-after-party.html
http://mark-sasahara.blogspot.com/2006/02/kentucky-and-tennesee.html