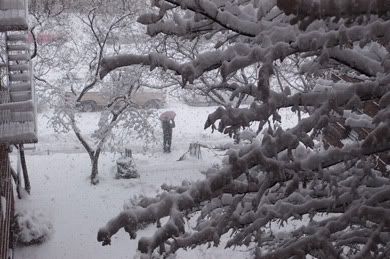 Lately I've had a hard time editing pictures , so here are three that I like, for your viewing pleasure. It started snowing yesterday during the short film I was shooting and it continued overnight. When I awoke at 9:30 this morning, I looked out the window and was greeted by this lovely view. I was wishing for a nice bright red umbrella to come into view, but I got the purple and blue instead. Oh well, it's colorful, I'll take it. Click...

These were shot on my new Panasonic LX1, which I really like. I'll be posting more from the Kentucky job and some photos frm the short film, shot by me and by fellow DP, Mat McDermott, soon. I'll also see if Moto will send some pix too. He was the stills photographer for the short film.

One of the best things about my new camera, is that the shutter delay is next to nothing. While not critical for a landscape, sometimes I want people to have their bodies in a certain position, so having a minimal shutter release delay cuts down on frustration.