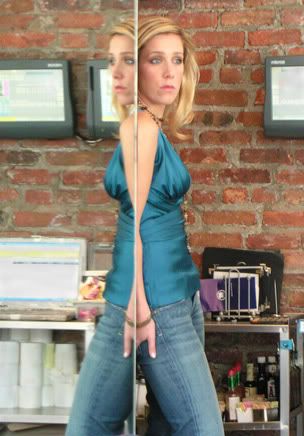 While Gaffing for Chris, I had a spare moment to photograph Ellie, while she was watching one of the other actors. I liked the double image of her and her expression was interesting. I didn't get to shoot as many as I would have liked, before she moved.
She had hired us to shoot a bunch of scenes for her reel. She is now out in LA, hopefully getting lots of gigs.
It was an interesting shoot. The biggest problem with this location was that it was on a busy street, Ninth Ave, so the traffic noise was overwhelming. Once the sun came up, I had to rig a large duvetyne curtain over the area where the actors were so that we would have consistent light throughout the day. Of course it was a whole wall of windows. A couple of times I had to move an 18x24 flag ever so strategically to cover a couple of holes. We used my 4x4 Kino flo as our main light and Inkies with either half blue, or naked, for side/edge lights. It looked nice. The warm light on Ellie and the other actress really lit them up nicely. HMI's would have been nice. I'm saving my pennies for a couple of small units and keeping a lookout on ebay. Though I may be able to get new ones near cost, by going directly to a couple of manufacturers/dealers. But, I already have way too much stuff.