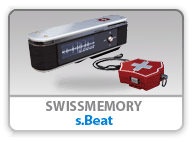 While surfing around checking out various sites, I stopped at
Victorinox
and happened upon the
s.beat MP3player
. It's a handy knife, scissor, nail file, MP3 player (1G/2G memory), FM tuner and a voice recorder. The best thing about it is that, on the Flight model, the player/recorder can be separated from the tools and carried, hassle-free, through airport security.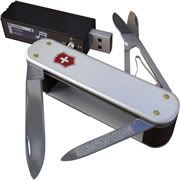 Included accessories: a remote, which allows for you and a friend to listen to your s.Beat, as well as to remotely control the player and an armband that allows the player to be worn comfortably while running, or jogging.
I'm lovin' it*.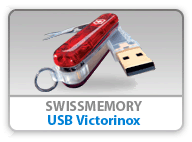 The Victorinox and Swissbit got together to make knives with memory, thereby fusing the need to slice 'n' dice with technology. Some with the option to detach the media, so the pointy parts stay in your checked bags.
The whole
Swissbit line
of drives is pretty cool and, as you can see: wonderfully clean and simple, yet, ohh so sexy Swiss design.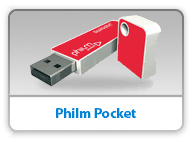 The pic on the consumer page is funny, it's two girls hugging and looking at the camera. Technology for GIRRLZ! Actually it's a link for
Philm
. Pocket Philm appears to be a pocket sized flash drive and software so that you can have a Powerpoint presentation of your favorite photos, using the supplied music, or you own...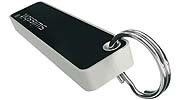 There's one Swissbit Flashdrive, the
UnitedCONTRAST
, that can read at 32MB/sec. Yes , MegaBYTES per second, via USB 2.0. It writes at 23MB/sec and there are three models with caps of 1G, 2G and 4Gigs. It weighs 10 grams, and is 68mm L x 18mm W x 8.2mm D. 68mm is 2 - 5/8 ths inches long. The have the 32MB/s read speed.
You can also get Swiss Memory for your laptop, or desktop. shouldn't it have a knife on it too?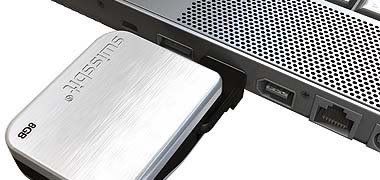 Finally the 8Gig SWISSMEMORY s.Valigetta, the "small data medium". A nice mini hard disk.
Think I'll be getting my UnitedCONTRAST directly from their
Shop
.
Photos courtesy Victorinox and Swissbit
*MCd's can go pound sand. That phrase it's part of Amreican parlance and was in use long before your copy monkies decided to copywrite the phrase.